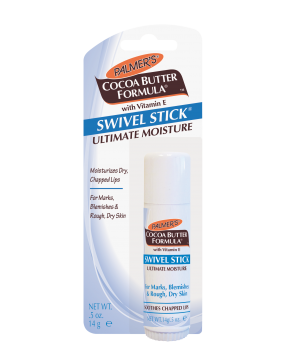 Maximize
Cocoa Butter Formula
Swivel Stick
14g
This innovative product is the portable version of the "original solid formula" Palmer's Cocoa Butter Formula and has all the benefits of pure Cocoa Butter enriched with Vitamin E; vital for smoothing dry or damaged skin. This pocket-size stick is ideal to help relieve  rough, dry areas, marks and blemishes on the face and body.  Also may be used to moisturize and soothe dry, cracked, chapped lips.  As the product contains 0% water, it does not freeze, so can be used on the ski slopes over the winter months when you need it the most.
Also ideal to help relieve dry, cracked heels in an instant.
Usage Instructions:
Apply as often as necessary.
Cocoa Butter: a rich, natural moisturizer that leaves skin soft and silky, tranforming even the roughest, driest areas into buttery soft skin.
Vitamin E: a powerful antioxidant that helps improve the appearance of scars, stretch marks and imperfections on the skin, giving a more even and toned appearance