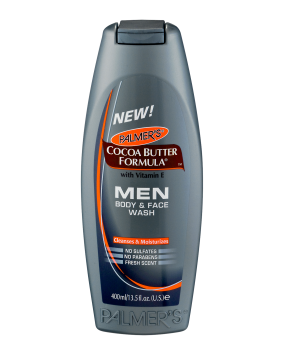 Maximize
Cocoa Butter Formula
MEN Body & Face Wash
400ml
Palmer's Cocoa Butter Formula for MEN Body & Face Wash is an ultra-cleansing wash, ideal for all-over-body and face. Start fighting rough, dry skin in the shower with Cocoa Butter, Vitamin E and other rich emollients that are contained in this moisturizing formula that leaves skin hydrated and healthy looking. No sulfates & no parabens.
Usage Instructions:
Cocoa Butter: a rich natural moisturizer that leaves skin soft and silky, tranforming even the roughest, driest areas into buttery soft skin.
Vitamin E: a powerful antioxidant that helps improve the appearance of scars, stretch marks and imperfections on the skin, giving a more even and toned appearance.