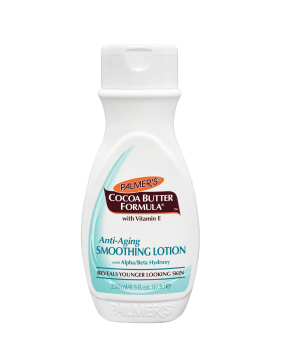 Maximize
Cocoa Butter Formula
Anti-Aging Smoothing Lotion
250ml
A unique blend of pure Cocoa Butter, Alpha & Beta Hydroxy Acids, Vitamin E and Shea Butter that exfoliates dry dead skin cells and uncovers healthier looking skin whilst providing deep moisturization. The perfect combination of gentle exfoliation and skin moisturization all in one outstanding product. 
This fast absorbing rich lotion also helps reduce the appearance of fine lines and wrinkles and evens skin tone. Your skin will feel soft, smooth and healthy with no greasy after-feel.
Usage Instructions:
Use Palmer's Cocoa Butter Formula Anti-Aging Smoothing Lotion after bath/shower. Reapply as often as needed.
Cocoa Butter: a rich natural moisturizer that leaves skin soft and silky, tranforming even the roughest, driest areas into buttery soft skin.
Vitamin E: a powerful antioxidant that helps improve the appearance of scars, stretch marks and imperfections on the skin, giving a more even and toned appearance.
Shea Butter: deeply moisturizes and soothes dry skin while acting as a moisture barrier to keep dry skin hydrated
Alpha & Beta Hydroxy Acids: gently exfoliates to remove dead skin cells and reveal glowing skin