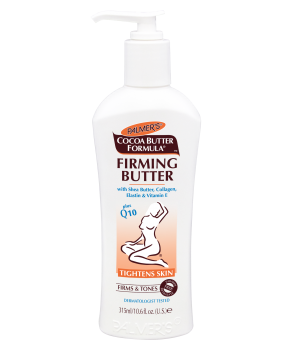 Maximize
Cocoa Butter Formula
Firming Butter
315ml
A unique formula specifically designed to restore your body to its natural, original firmness.  Made from pure Cocoa Butter and enriched with Vitamin E, Collagen, Elastin and Shea Butter, this non greasy lotion tightens skin even after pregnancy or weight loss.  Pure Cocoa Butter, Collagen, Elastin and Shea Butter firms and tones while improving skin elasticity and texture.  In addition, Ginseng and Vitamin E help to nourish and rejuvenate tired skin.  Co Enzyme Q10 - a powerful antioxidant- stimulates skin cells for a more toned and smoother appearance.
Dermatologist Tested - Paraben and Phthalate Free
Usage Instructions:
Gently massage Palmer's Cocoa Butter Formula Firming Butter all over the body twice daily- especially on thighs, legs, stomach and bust.
Cocoa Butter: a rich natural moisturizer that leaves skin soft and silky, tranforming even the roughest, driest areas into buttery soft skin.
Vitamin E: a powerful antioxidant that helps improve the appearance of scars, stretch marks and imperfections on the skin, giving a more even and toned appearance.
Collagen & Elastin: improve skin elasticity, stretchability and firmness and leads to improvement in overall skin tone, suppleness and appearance
Shea Butter: deeply moisturises and nourishes to leave dry soft and radiant
Co Enzyme Q10: helps smooth and revitalize skin